President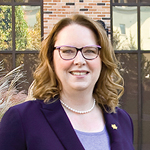 Deborah MacLatchy began her five-year term as president and vice-chancellor of Wilfrid Laurier University on July 1, 2017. In this role, she is responsible for the overall academic and administrative operation and strategic direction of the university, and is accountable to Wilfrid Laurier University's Board of Governors.
Executive Leadership Team
The Executive Leadership Team, in service to Laurier and its intersecting communities, enables the identification, development and execution of strategies and programs to advance Laurier's vision, mission and values.
Heidi Northwood, interim Provost and Vice-President: Academic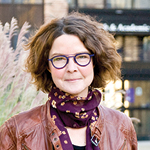 Heidi Northwood is the interim provost and vice-president, academic. In her role, she focuses on multi-campus strategic initiatives that enhance student learning and development, foster equity, diversity, inclusion, and internationalization, and integrate Laurier's academic/curricular agenda with the co-curricular elements of student learning, development, and engagement. Prior to stepping into the provost role, Northwood served as the Senior Executive Officer (SEO) of Laurier's Brantford campus and SEO Global Strategy. Northwood joined Laurier in 2014 as the inaugural dean of Liberal Arts, and previously served as the director of Integrative Programs and the Core Curriculum at Nazareth College in Rochester, NY and a professor in the philosophy department. In addition to teaching and working in the area of Ancient Greek philosophy and science, she led the development of a new core curriculum, experiential learning opportunities and assessment structures, and twice co-led the College's self-studies and external accreditation. Northwood received her bachelors and master's degrees in philosophy from Western University and her PhD in philosophy from the University of Alberta.
Antonio (Tony) Araujo, interim Senior Executive Officer: Brantford Campus
As interim senior executive officer, Brantford campus, Tony Araujo represents the office of the president at the Brantford campus. He works to create opportunities and strategies that advance the university's academic mission by fostering strategic relationships with campus and community partners. A graduate of the University of Guelph and a CPA, CMA, Araujo also serves as the Assistant Vice-President: Campus Operations and Risk Management for Wilfrid Laurier University, and previously served as Acting Vice-President, Finance and Administration. As a senior leader, Araujo works to provide local integration and coordination between several areas at the Brantford Campus, as well as university-wide leadership on risk management areas such as Safety, Security, Enterprise Risk, and Insurance. Araujo is the Past President of the Brantford-Brant Chamber of Commerce. During his time at Wilfrid Laurier University, he has been involved with the Laurier YMCA athletic centre project, the academic and administrative collaboration with Conestoga College at Laurier, the One Market Planning Committee, and the Administrative Working Group that provided information and insight to the Presidential Task Force on Multi-Campus Governance Report. Araujo was also a member of the Multi-Campus Administrative Implementation Team, which coordinated the development of multi-campus organizational structure plans. Prior to working at Wilfrid Laurier University, Tony spent 18 years in health care, including significant experience in senior management as a Chief Financial Officer in both a community care access centre and hospital setting.


Pam Cant, Chief Human Resources and Equity Officer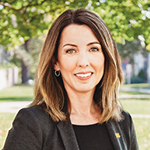 Pamela Cant was appointed as the chief human resources and equity officer and part of Laurier's executive leadership team in November 2019. Prior to this, she was the associate vice-president: human resources and equity at Wilfrid Laurier University for seven years and previously held the role of Director: Total Compensation. She has worked in academia for fifteen years, and in the field of Human Resources for over 20 years. Cant has an honours Bachelor of Arts degree from Wilfrid Laurier University, and a Master of Human Resources Management degree from York University. Cant is currently past chair of the University Health Insurance Plan Steering Committee and the chair of the Council of Senior Human Resources Officers for Ontario universities.
Jason Coolman, Vice-President: Advancement and External Relations
Jason Coolman leads the university's advancement and external relations initiatives, furthering Laurier's efforts as a multi-campus university with deep community connections. He provides direction and support for Laurier's overall donor and alumni relations, communications, marketing and government relations strategies. Before joining the Laurier executive leadership team in 2019, Coolman served as the associate vice-president: development and alumni relations at the University of Waterloo. He is an active member of the Council for Advancement and Support of Education (CASE), serving as treasurer for the District II Board of Directors, and a member of the alumni metrics task force and CASE reporting standards working group. In 2011, Coolman's professional accomplishments earned him the Rising Star award from CASE District II and in 2016 he received the CASE Crystal Apple award for outstanding teaching.
Ivan Joseph, Vice-President: Student Affairs
Ivan Joseph joined Laurier as vice-president: student affairs in October 2020. In this role, Joseph focuses on multi-campus strategic initiatives that enhance student learning and development, foster equity, diversity, and inclusion, and integrate Laurier's academic/curricular agenda with the co-curricular elements of student learning, development, and engagement. Previously Joseph served as vice-provost, student affairs at Dalhousie University and spent a decade as director of athletics at Ryerson University. Joseph is an accomplished public speaker, coach, and mentor. His TEDx Talks have over 18 million views to date and in 2018 he was recognized by Forbes for having one of the ten best TED Talks for graduates. Joseph is the recipient of many awards including Coach of the Year (2010, 2013) by Ontario University Athletics. He holds a Bachelor of Arts in Physical Education and Health from Graceland University, a Master of Science in Higher Education Administration from Drake University, and a PhD in Sport Psychology from Capella University.
Jonathan Newman, Vice-President: Research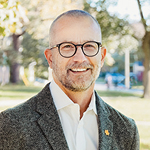 As Laurier's vice-president: research, Jonathan Newman leads the Office of Research Services, providing vision, strategy and support for the university's overall research endeavours. His leadership and expertise in the fields of grassland ecology, climate change biology and environmental ethics contribute toward Laurier's strategic research growth. In addition to his role on the executive leadership team, Newman holds a faculty position in Laurier's Department of Biology. Newman served as the dean of the College of Biological Science at the University of Guelph from 2015 to 2019, and held previous roles as a faculty member in the Zoology Department at the University of Oxford and a fellow of St. Peter's College. He has received many awards and honours in his career, including being named a fellow of the Royal Society of Biology in London, UK.
Lloyd Noronha, Vice-President: Finance and Administration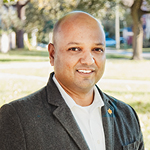 Lloyd Noronha joined Laurier's executive leadership team in January 2021. His role is responsible for developing and stewarding administrative strategies and systems that support and advance the overall goals of the university. His portfolio includes: financial resources, procurement, human resources, ICT, facilities and asset management, internal audit, environment and risk management, community safety and security, and a number of ancillary services. Noronha was formerly chief financial officer and associate director of education (Facilities, Business, and Community Development) at the Toronto Catholic District School Board. He has held senior roles with the City of Vaughan, including director of financial planning and development finance/deputy treasurer. Noronha is a chartered professional accountant with two bachelor's degrees – one in science and the other in commerce – from York University.