COVID-19 Update
Pending university approval, the Faculty of Music will return to in-person auditions on our Waterloo campus for anyone applying in 2021/22.
Anyone choosing to audition in-person (along with their guest(s)/accompanist) must adhere to Laurier's COVID-19 audition safety requirements.
Virtual audition options are available to applicants who feel uncomfortable auditioning in-person due to COVID-19 or who live further than 400km from Laurier.
Meet Our Auditions Coordinator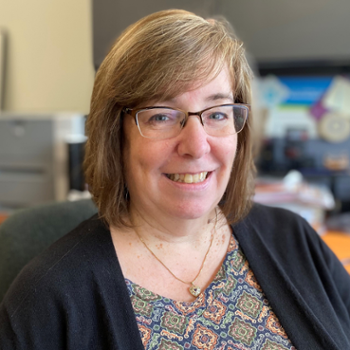 Kathy is Laurier's Faculty of Music academic advisor and auditions coordinator. Her goal is to ensure all applicants and students feel empowered in their postsecondary choices. 
Should you have questions about your application, which program to apply to on OUAC, audition repertoire or what to expect on the day of your audition, don't hesitate to email her at musicauditions@wlu.ca. 
Audition Process
Apply through the Ontario Universities' Application Centre (OUAC).
Once your application is received by Laurier from OUAC, you will be emailed login information for Laurier's Online Audition Portal (starting Dec. 15).
Laurier's Online Audition Portal requires you to submit:


Your contact information.
Your preferred choice of in-person audition/interview or a pre-recorded video audition and Zoom interview.
Contact information for one reference (reference will be contacted by Laurier via email to complete a reference questionnaire).
Your current academic information.
Details on your musical background and career goals.
An optional portfolio of past performances, composed and/or original music
$60 audition fee (payable by credit card).

Once this information and your $60 audition fee is submitted through the Online Audition Portal you will receive a confirmation email.
After Your Audition
Most applicants will hear from us once all audition candidates for their instrument have been auditioned. In some cases, this may not be until late April or May.
If your audition is successful, you will receive an email from the Faculty of Music recommending you for admission. This is not a guarantee of your acceptance. Providing that you meet all academic admission requirements of the university and you have received a recommendation from the Faculty of Music, Laurier's Recruitment and Admissions Office will send you your official offer of admission.
If your audition is unsuccessful, you will be automatically considered for an alternate offer of admission to another Laurier program and contacted by Recruitment and Admissions.
Regardless of outcome, the Faculty of Music will contact all students by email with their audition results.
Keyboard Facility Requirement
Meeting the Keyboard Facility Requirement is only required for Bachelor of Music in Community Music students who wish to pursue the Bachelor of Music Therapy.
Those students must meet Laurier's keyboard facility standards by the beginning of their third year.
As an incoming Bachelor of Music in Community Music student looking to pursue the Bachelor of Music Therapy you must sign up for a keyboard placement interview during Orientation Week to discuss Laurier's keyboard facility standards and in some cases to prove if you have met our requirements.
During this interview students can:
Provide proof of completing a Grade 6 (or higher) Royal Conservatory of Music (RCM) piano exam in the form of an

 

official certificate

 

or

 

examination results, which must have been completed within the previous three calendar years.
Attempt Laurier's

 

keyboard facility exam, meant to test piano skills at a Grade 6 RCM equivalency.
Discuss their current level of piano knowledge and discuss Laurier's keyboard facility standards and

 

optional workshop.
Keyboard Facility Workshop
If students are unable to pass the keyboard facility exam or do not opt to attempt the test we recommend they take the Laurier keyboard facility workshop. This workshop is offered to assist students to prepare for the equivalency exam, which is administered as part of the workshop. This workshop does not count towards academic credit. This workshop runs each term and may be taken for up to four terms (i.e. up to the end of second year).
Should you decide to pursue piano studies on your own in lieu of taking the workshop, you must arrange to retake the keyboard facility exam or present a RCM Grade 6 piano certificate before you enter your third year of study.