Wilfrid Laurier University student Kristin Cobbett has taken another giant leap toward her goal of becoming an astronaut.

Cobbett, a biology and chemistry double-major student, recently completed the hands-on components of astronautics training through the Advanced PoSSUM Space Academy, an immersive, experiential learning program for undergraduate students interested in upper-atmospheric research, bioastronautics, science communication and human space flight operations. The academy is held at the Florida Institute of Technology.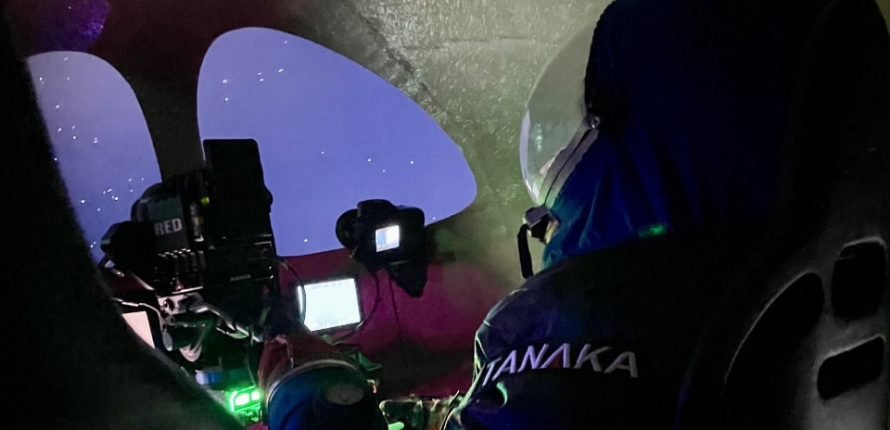 Cobbett is among 13 undergraduate students from around the world accepted into the program's 2020 cohort, whose in-person training experiences could finally proceed after a nearly two-year delay due to the COVID-19 pandemic.

"I'm still having a hard time processing how surreal this experience has been," says Cobbett. "It was incredible meeting so many people who have the same end goal as me and see the future of space exploration as the next frontier."

Cobbett's week-long training included flight experience in a simulator that mimics Virgin Galactic's SS2 aircraft, collecting noctilucent cloud samples while suspended in a simulated orbit, learning how to pressurize a spacesuit, and practising celestial navigation skills. 
Training kicked into high altitude on day five as Cobbett sat secured in the front seat of an Extra 300L, a two-seat aerobatic aircraft, for high gravitational force (high-G) and microgravity physiology training in a suborbital environment. High-G training is imperative for aviators to mitigate the effects of blackouts that can be induced by high gravitational forces.
At 2,000 feet above the ground, Cobbett and her pilot achieved gravitational forces upwards of six – an incredible amount of force when compared to the average rollercoaster ride, which attains a gravitational force of three.
"We rolled, looped, spun and stalled, which made me feel the anomaly of negative and high gravitational forces," says Cobbett. "During this flight and throughout my training, I realized that becoming an astronaut and enduring these physical challenges isn't for the fainthearted; it's for the brave. Space exploration is suited to those who are willing to put their lives on the line to benefit the future of humankind and help understand our place in the universe."
Cobbett says she is committed to her goal of becoming an astronaut but acknowledges the many steps ahead of her before she counts down to launch.
Currently in her final semester at Laurier, Cobbett – originally from Colorado – plans to return to the United States to join the Navy after graduation. She will need to complete four months of officer candidate training before pursuing up to two years of flight training to become a military pilot. After that, Cobbett plans to pursue graduate studies in genomics and systems microbiology or virology, ideally at the Massachusetts Institute of Technology, before she can apply to NASA.
Since returning from training, Cobbett has caught up with her mentor and research supervisor, Laurier Professor Iaonnis Haranas, to share stories about her experience.
Cobbett says her studies at Laurier, which include a minor in physics, served her well during her time at the Advanced PoSSUM Space Academy. She was the only life sciences student in her cohort, which was comprised of engineering students.
"We are living in a time when we can make the human race an interplanetary species," says Cobbett. "Space exploration can help us evolve life beyond the Earth and learn how to keep our home planet sustainable for future generations."