Indigenous Student Centres on Wilfrid Laurier University's Waterloo and Brantford campuses are a hub for culture and learning. They also play an important role in the exceptional student experience Laurier is known for.
With Laurier's campuses closed to most in-person learning and activities during the 2020-21 academic year, staff in the Office of Indigenous Initiatives found innovative ways to keep the Indigenous student community at Laurier connected online amid the ongoing COVID-19 pandemic.  
"Ensuring Indigenous students at Laurier felt connected and supported was our team's sole focus during the past academic year," says Melissa Ireland, director and interim senior advisor of Indigenous Initiatives at Laurier. "Our goal was to plan purposeful online programming to support Indigenous students wherever they were studying from." 
Creating Connections, Providing Support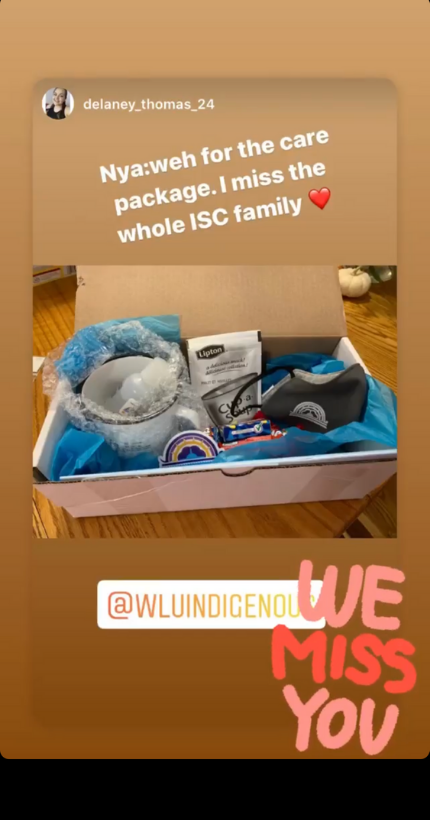 Indigenous student services staff kicked off the fall 2020 term by distributing more than 475 care kits to students
studying remotely. The kits contained branded Indigenous Student Centre items including a reusable face mask, hand sanitizer and coffee mug, along with packages of tea, candy and a colouring book to foster creativity.  
"We had such positive feedback from students about the care kits," says Emily Daniel, Indigenous student support coordinator at Laurier's Waterloo campus.
"The kits helped to welcome first-year students to the Indigenous community at Laurier while letting our current students know that we miss being together with them in person."  
Indigenous students could also request an at-home smudge kit and a traditional medicines kit to maintain their well-being.
For students experiencing poor internet connectivity, Indigenous student services staff provided internet sticks so students could access their courses. The team also provided seven $200 bursaries to students to offset the cost of internet connections.  
Coming Together Virtually 
Throughout the fall term, Indigenous students had access to a mix of academic and social programming online. Margaret Neveau, Indigenous student support coordinator at Laurier's Brantford campus, held weekly tea and medicine teachings, Elder Mary Anne Caibaiosai (MSW '17) led programming about traditional teaching and medicines, and live drop-in sessions to 'work on whatever' also took place.
Students were also invited to join university-wide Indigenous events including Orange Shirt Day and Indigenous Education Week.