Help us create a more sustainable campus and community. Laurier offers many opportunities for students, staff, faculty and community members to get involved in creating a campus and community that is sustainably-minded.
Waste Reduction and Diversion
To align with Goal #5 of our Action Plan, Laurier offers several different waste reduction and diversion programs, including: organics, comingled recycling, e-waste, batteries, fluorescents, materials and cell phones. Key programs include:
40 cent reusable mug discount at any vendor on the Waterloo campus.
Eco-container program provides reusable clamshell containers from participating campus locations.
Water-fill stations located across campus with digital counters that track the number of plastic bottles each location has diverted.
Alternative Transportation
To align with Goal #3 of our Action Plan, a variety of alternative transportation options are offered by Laurier and the Region of Waterloo to reduce the environmental impacts of commuting. Benefits available include:
Community Gardens
Laurier has a large community garden at the Northdale campus in Waterloo, located just north of the main campus. The garden hosts numerous community partners such as Young City Growers, KW Urban Harvesters, Patchwork Community Gardens, and more.
Pollinator Friendly
The Sustainability Office has been in partnership with other departments, clubs and offices at the Waterloo campus to raise awareness of the issue of pollinator decline. To align with Goal #7 of our Sustainability Action Plan, Laurier is working to create a habitat that supports wild pollinating species (such as native bees and butterflies) by intentionally planting pollinator friendly plants and flowers. We're taking steps to make the Waterloo campus friendlier to bees, butterflies, moths, wasps, hummingbirds, and other native pollinators.
Farmers Market
Laurier and its community partners work hard during the spring and summer months to cultivate the land in our community garden at Northdale to grow hyperlocal produce for the Laurier community to enjoy. Produce will be available for purchase at a farmer's market stand located at Veritas Cafe starting late July/early August in 2019.
Fair Trade Campus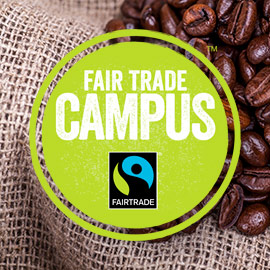 As a Fair Trade designated campus, Laurier actively supports fairer conditions and better prices for people in the Global South who grow and make products – whether it is coffee, cocoa or cotton t-shirts. Being a Fair Trade campus supports the Laurier community in making choices that align with our personal values, and have a positive social and environmental impact.