An important dignitary, Chief Lloyd Chicot of the tiny Ka'a'gee Tu First Nation in the Northwest Territories, toured Wilfrid Laurier University recently to meet with researchers who work closely with his community of Kakisa.
Kakisa has been working with multiple Laurier research teams for the better part of a decade. The partnership has been fruitful, generating key insights in areas including fish health, northern food security, and the knowledge-sharing process across cultures and generations.
It's all the more remarkable considering that when Chicot became chief in the early 1990s, his community generally did not have positive relationships with the researchers they had encountered from government and industry.
"Some of the oil companies didn't take into perspective the issues that we brought forward," says Chicot.
Chicot and the community won a court judgment demonstrating that government and industry hadn't been adequately consulting them. Part of the settlement included a small sum of money the Ka'a'gee Tu First Nation has been using to participate in planning and development discussions, which have grown into connections with other researchers and networks.
"It started this whole process of researchers coming to the community and learning what we're actually doing, respecting our traditional knowledge," says Chicot. "It's a better way of doing things. In the long run it's not only good for us, it's good for a lot of the students who are doing all this research on our behalf. We're moving with them into the future."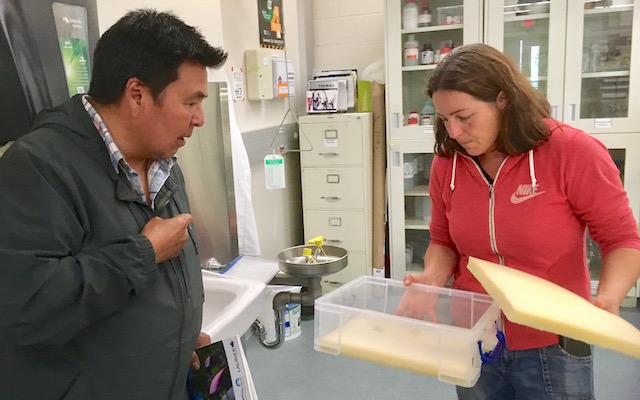 The first group of Laurier researchers to work with the Kakisa community was led by Professor Deborah MacLatchy, now Laurier's president and vice-chancellor. In 2012, the community and its partners at the Northwest Territories Cumulative Impact Monitoring Program invited MacLatchy and her group of fish biologists to monitor fish health in the community's waters.
"Working with Kakisa has been nothing but a pleasure," says MacLatchy. "The community sees that we can do science that helps address their concerns and we need their expertise on the land to make it possible. It's been a wonderful partnership."
"Our work provides background information so we know if we'll see changes to fish populations as the climate changes," says Andrea Lister, research coordinator with MacLatchy's lab. "The community helped us with logistics and the knowledge of where to look for fish – these lakes are enormous and you don't just fish anywhere. They graciously provided their hunting camp as a station at Tathlina Lake, so we stayed in their cabins. Working directly with community members in the field added safety and efficiency to the work."
The fish project paved the way for other Laurier researchers to work with the community.
"We viewed it as essential to listen to them and to tailor our work to meet their concerns," says Lister. "Community members have always joined us – they're doing the work with us and we're living with them at the site. The work doesn't happen without them. Also, we enjoy the land the way they enjoy the land. I think that left a good impression."
Andrew Spring, a Laurier adjunct professor of geography and environmental studies and associate director of the Laurier Centre for Sustainable Food Systems, began working with the community in 2014, focusing on food security issues in the Northwest Territories. He invited Chicot to visit Laurier before going with him to an agroecology conference in Brazil.
"We wanted to create the space for Chief Chicot to meet with all the Laurier and University of Waterloo researchers who work with Kakisa on various projects," says Spring. "Kakisa isn't just a great, welcoming place to work – the community has been a leader in partnering with researchers on research that's really community-focused."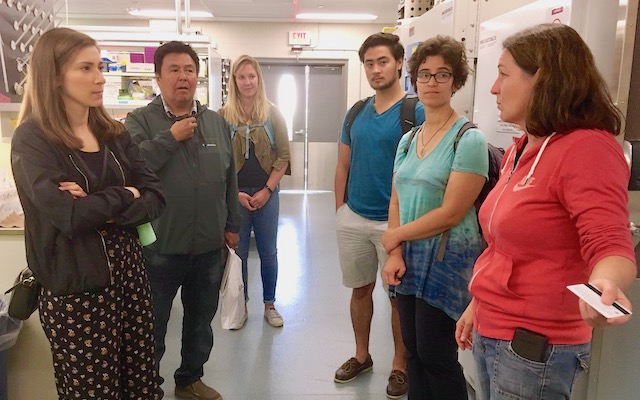 A number of Laurier graduate students were among the researchers who met with Chicot in Waterloo. With a population of less than 50, Kakisa is small enough that students who spend time there get to know everyone in the community, so the chief and students greeted each other with the warmth of old friends.
Graduate students working with Spring spend their first summer in the community concentrating on building relationships, which can mean anything from assisting with projects already underway to just spending time getting to know people. They begin their own research in earnest during their second summers in Kakisa.
Michelle Malandra and Kaitlin Kok, both master's students, each spent two summers in Kakisa, with Kok also visiting for shorter periods in the winter. Kok, an Environmental Studies student, helped create an electronic map that can record environmental changes over time while Malandra, a Geography student, researched the impact of an existing community garden.
"The relationship we build is based on clear communication between us as researchers and the community," says Malandra. "It can still be challenging, because your agenda doesn't always fit with the community's in terms of timing – like, if they have illnesses or just life events happening. You have to learn to not push your agenda during those times, because you're doing research with people and they're the priority."
"I had amazing experiences," says Kok. "Community-based research and relationship building is key to fully understanding the picture behind how communities are experiencing climate change.
"We want to have a long-term relationship with researchers, helping one another other so people benefit and the land benefits," said Chicot. "There is quite a bit of change happening so we need to understand the way this affects people and figure out how to adapt. Through Laurier, we've met a lot of open-minded people who want to do things differently and see change."