The addition of an apiary on the Market Square roof at Wilfrid Laurier University's Brantford campus is a golden opportunity for important cell research.
The Laurier Community Apiary will house two colonies of European honeybees, Apis Mellifera, for research purposes.
Richelle Monaghan, associate professor cross-appointed in the Health Studies and Biology departments, along with Laurier staff members Jessica Ryde and Elaine Francombe, have worked to bring the hives to the Brantford campus.
Bees to Aid in Research
Monaghan has been beekeeping personally for years. She is a cell biologist and parasitologist, working on establishing a honeybee cell line, which is a culture grown from cells removed from a honeybee. Those cells are encouraged to divide indefinitely, becoming cell lines, which is something that is significant to scientific research.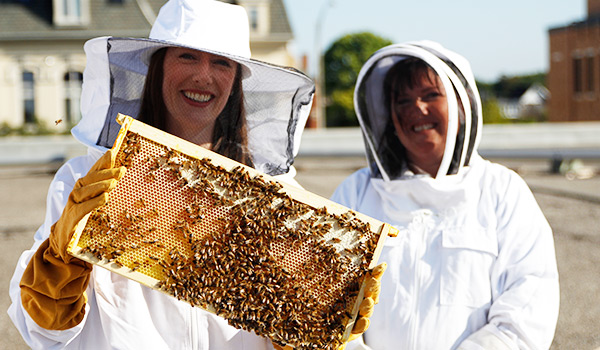 "If you could develop a honeybee cell line, then you have a place in the laboratory that you can test all different combinations of pesticides and analyze the cellular effects of different pesticides or different compounds," said Monaghan.
The development of a honeybee cell line, which is not an easy task, will help Monaghan's research into honeybee parasites, allowing her to study the parasites in a species-specific cell line.
Plans to Harvest Honey
Once the colonies are established, Monaghan will install honey supers to the hives, which are used to collect surplus honey for harvest. If the bees are producing enough honey, Monaghan, Francombe and Ryde hope to distribute Laurier Golden Honey as gifts. But the first big hurdle will be the winter.
"Winters are hard on bees, and you can lose about 66 per cent," said Monaghan, noting the bees are currently thriving.
The location of the hives is not yet accessible to students, but work was done to create a roof-top apiary in compliance with the Ontario Building Code.
An evaluation was completed in kind by Brantford-based firm MMMC Architects, who also designed the Research and Academic Centre and led restorations and renovations at the former Carnegie Library, the first building at Laurier's Brantford campus.