The bronze plaque hangs in the foyer of the Arts building at Wilfrid Laurier University's Waterloo campus, near the design of a compass inlaid on the entranceway floor. The plaque lists 152 names – the students and alumni who served in the Second World War. Eleven of the names are marked with a small dot. These are the young men who did not return.
Today's Laurier, with its 19,000 students, would be unrecognizable to those who attended the university during the two world wars, when Laurier was called Waterloo College. Yet the institution's history is intimately tied to those wars, particularly the Second World War, as a visit to the Laurier Archives reveals.
Waterloo College and the First World War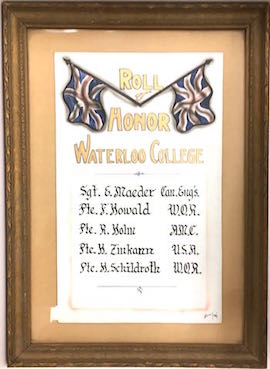 Waterloo Lutheran Seminary was founded in 1911. In 1914, the year the First World War began, it began offering a broader range of courses as Waterloo College School.
It was a small institution in those days, which is reflected in the small number of affiliated men who served in the First World War – just five. Their names are inscribed on a framed roll of honour that resides in the university archives: Frederick Holm, Ferdinand Howald, Ernest Maeder, Herbert Schildroth and Frederick Zinkann.
A note in the archives of more recent origin says none of the names on the roll of honour are found on the Canadian Virtual War Memorial, meaning all probably survived the war. In fact, given the dates involved – they were drafted in 1918 – they may have never left Canada.
Waterloo College during the Second World War
By the Second World War, Waterloo College, which was then affiliated with the University of Western Ontario, had grown modestly. In 1939, there were 74 students – enough to support a student newspaper, the College Cord.
Back issues of the Cord, as the newspaper is now known, reveal that in some ways, college life didn't change all that much during the war years. Classes were classes, students made time for fun, and advertisers pitched them everything from barbers to graduation photos.
There were, however, some significant changes. Student enrolment dropped as young men enlisted, although a 1939 federal directive instructed men already in school to remain there for the time being. By 1943, there were just 53 students, 17 of whom were women.
Waterloo College, like all Canadian colleges and universities, had a Canadian Officers' Training Corps (COTC), mandatory for male students. Young men were permitted to continue their studies because there was a need for qualified people in the Armed Forces and war industry. However, students had to be war-ready. By February 1944, men in arts programs could avoid the draft only by placing in the top half of their classes.
COTC reports in the Cord tell of male students learning to read maps, navigate trenches and operate rifles and machine guns. Students paraded, camped, went through gas drills and marched – though on one occasion detailed in 1941, half the platoon got lost and were subsequently lectured on map reading.
Female students were not part of the COTC. However, women did participate in the war effort. For a 2001 master's history paper, then-student Barry Ries (BA '79; MA '05) interviewed three female alumnae who began their studies at Waterloo College in 1943. Two of them served as "farmerettes," picking crops that would normally have been picked by men. One worked two summers at a Waterloo munitions plant. All female students were also expected to do "volunteer" work, including folding bandages, sewing and knitting.
Students Who Fell
The Cord regularly carried news about former students serving in the war. An editor's note from November 1940 expresses gladness at having "boys from Waterloo actively representing our moral participation on the war front" and wishes them "all kinds of luck."

The news soon turned darker. In December 1940, Leading Aircraftman Douglas Lowe (right), a former Waterloo College student, was killed in a Royal Canadian Air Force training plane near Kingston. Leading Aircraftman Richard Meredith (Dick) Wellein was later killed in a training flight in 1943. Flight Lieutenant Harold Alexander Wills also died in 1943 in Ontario.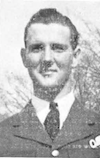 More would be killed in action. One was Flight Sergeant William Charles (Bill) Thurlow (left), who had completed 27 flights by the time he died in July 1942, with only three more flights to go before he was due to be sent back to Canada on furlough.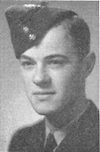 Charles David McIntosh (right) was shot down in Germany, near France, in July 1943 but it wasn't until April 1944 that the Cord reported he could now be presumed dead. "A flight-sergeant at the time of the mishap, the young airman has been promoted to the rank of warrant officer, his mother has been informed," said the Cord.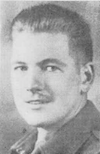 Lieutenant J. Norbert Jeffers (left) was killed in action in January 1944, "at the head of his men," reported the Cord. "When his platoon was detailed for especially dangerous duty, he insisted on going first, though warned that he need not do so. He and his men were ambushed by snipers. Struck by three bullets, he used his last breath to order a smoke screen for the protection of those who were with him."

Major Gordon Drummond Sim (BA '37) (right) was killed in action in September 1944. The Cord recounts that "Major Sim frequently insisted on joining patrols. One day, while accompanying a group of his men reconnoitering a Germany (sic) party holding a road-block, he came under fire and was compelled to drop down by the roadside a few yards from the safety of a ditch."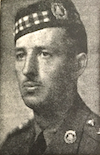 Lieutenant William Jamieson Martin died in June 1944. Captain William McDougal Bean (left) was killed in action in March 1945, the same month Flying Officer Frederick Weber Shantz (right)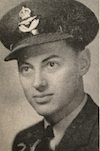 was presumed dead after "his craft failed to return to its base following air operations over enemy territory." Private Craig McLean Alles fell in April 1945.
Some of those who survived paid a heavy price. William (Bill) Artindale (BA '45) was captured as a prisoner of war in Germany. Charles D. Campbell lost his right arm above the elbow. More were wounded, some of them hospitalized for months.
After the Second World War
Waterloo College's enrolment jumped to 169 the year after the war, which was just the start of its postwar growth. Across Canada, 54,000 veterans went to university with financial aid from the Veterans Rehabilitation Act. Some were Waterloo College students who had interrupted their studies to enlist.
A number of those who served went on to great things. Reuben Baetz (BA '47; honorary degree '75) became a social worker and Ontario provincial politician who served as a cabinet minister in the governments of Bill Davis and Frank Miller. George Durst (Seminary diploma '34; BA '48;) became a professor at Waterloo College and was still there when it became Wilfrid Laurier University in 1973. John M. Harper (BA '39) became a well-known lawyer and community volunteer. A Waterloo Public Library branch now bears his name. 
This Friday, Nov. 10, a Remembrance Day event will be held in the Concourse on Laurier's Waterloo campus, beginning at 10:40 a.m. On Remembrance Day itself, Nov. 11, those attending the Brantford campus open house will observe two minutes of silence. Other Remembrance Day activities will take place in both the Waterloo and Brantford communities.
Regardless of how you mark the day, spare a thought for Laurier's fallen.