Amy Milne-Smith, an associate professor of history at Wilfrid Laurier University, can usually sense some trepidation when she tells her third-year class about their first assignment.
Inspired by the Washington Post's decade-old competition, Milne-Smith has students recreate historical scenes for her course on crime, sex and scandal in 19th century Britain.
The catch? Students depict truly shocking historic moments as dioramas using Peeps — the fluffy marshmallow candy.
"I haven't done anything like this in university," says third-year psychology student Leah Parent. "A lot of my courses are sitting in class and typing notes, and while it might be hard to get excited about a research project, Professor Milne-Smith had us thinking and engaged in a different way. It was a really cool experience."
For the assignment, Parent and her classmates were required to think about the fine details of life in the 1800s. What would a working class house would look like — would there be paintings on the wall, rugs on the floor, would there be drapes or even windows?
Parent's diorama depicted the notorious Red Barn Murder that took place in 1827. In this scandal, farmer William Corder murdered and buried his lover, Maria Martin, with whom he had an illegitimate child, while lying to her family that they had run away and eloped.
"It might not be sensational today, but back then, because of all of the societal differences, it would have been considered unbelievable," says Parent. "We had to ask ourselves, 'why?'" For Milne-Smith, the assignment evolves every time she teaches the course. "It's interesting to see certain crimes keep coming up and how students portray them differently," she says.
Two recurring scandals are the burning of Bridget Cleary (an Irish woman burned to death by her husband in 1895) and the practice of Victorian baby farming.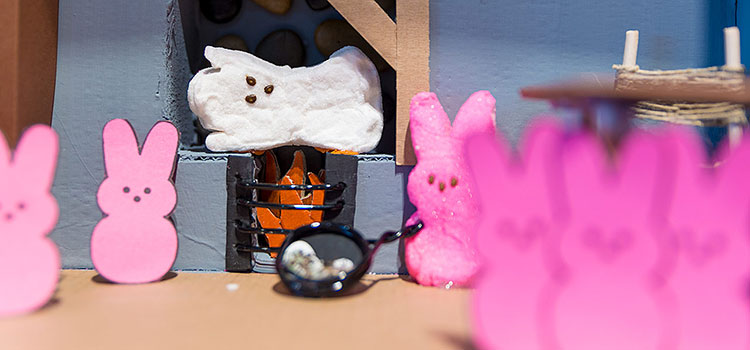 "They're very grim and gruesome episodes in history — you can understand why I have students use marshmallow figures to lessen the macabre element," says Milne-Smith.
The project requires strong research skills and plenty of focus. Students must read through very specific primary sources, including a new database of 19th century newspapers recently acquired by the Laurier library.
"I want students to do research into the lived realities of the past," says Milne-Smith. "I told them, 'Don't put anything in the scene unless you know it would be there in the 19th century event you're creating.' Students don't realize how difficult it is to think through reconstructing a specific time and place."
Milne-Smith confesses that history has a reputation of being staid — assignments can be very traditional.
"Funny enough, sometimes it's the students who want the traditional work — not all students are excited about this project. They fear the artistic talent that might be required of them," she says.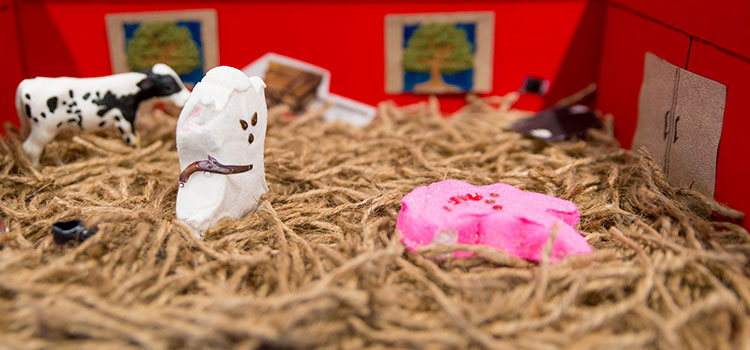 But Milne-Smith makes it clear that the assignment is for history — not art — class. There is no grading on aesthetic quality. Only historical accuracy is considered.
"One of the things that history, as a discipline, is trying to do now is to show the range of skills that can be learned," she says. "With an arts degree, you don't just write research papers — you learn to conduct and demonstrate research in a variety of ways. History students are doing a lot of applicable and creative work, more than they can even acknowledge."
In addition to the dioramas, students wrote explanatory blogs, which not only required an adaptation of their writing style, but also learning two new web tools.
Students used WordPress, an open-source online content management and publishing platform, and ThingLink, an online platform that allows users to annotate the details of an image. Using both tools, students are able to present their research and the historical details of the dioramas online.
"How do you know that a 19th century murder had an electrifying impact on Victorian society?" Parent wrote in her blog post, The Murder that Shook England, about the Red Barn Murder. "When there are puppet shows, plays, broadsides (Victorian gossip flyers), peepshows, novels, pottery figures and even ballads written about the horrors that became a nationwide spectacle."
When combining the research conducted for their blogs and dioramas, students are that much more prepared for their final assignment, a major research essay that contextualizes the relevance of the event they selected and explains what was learned about Victorian society. Milne-Smith posted the best final research essays online.
"As a student, after putting in all this effort, it's really rewarding to have your work published and out in the public," says Parent.
The dioramas will also be on display until March 17 in Laurier's library.
"I've always been impressed by the work of my students — and people who come into my office are always struck by the dioramas and want to know more," says Milne-Smith. "I thought the display would be a great opportunity to show off the students' work and will encourage visitors to visit their online work as well."
Visit the Peeps Show
Check out the course website for Crime, Sex, and Scandal in Nineteenth-Century Britain, where you can read blogs, research papers and view the Peeps dioramas.
Dioramas will be on display until March 17 in Laurier's library.